THE BAND'S INCEPTION, INITIAL GIGS and OUR FIRST TRIP TO EUROLAND
Jackie B:
The summer of 1974 was hot and I was bored, I went to the Lord Nelson on Holloway Road to see the all women band Cosmetix. Coincidently their bass player was leaving and they asked if I would be interested in joining, I said sure and we agree to meet at a rehearsal room in Blackheath. As I arrive for the rehearsal an almighty row between the two singer guitarists Gaynor and Audrey is already in full flow, finishing with them deciding to go their separate ways. Gaynor leaves. What a start! We decide we'd like to add keyboards to what is now a three piece and put an ad in Melody Maker. Lesley a keyboard player from New Zealand calls us, she's here to continue her career as a journalist and hadn't planned to join a band, but the ad intrigued her. We hire a rehearsal room at Greenwich Baths to check each other out.
We were a rather eclectic bunch but we are good together and decide to give it a go. There were a few Cosmetix gigs left on the books which we are going to fulfil, including the Marquee. We need a set and as we are starting from scratch, choices need to be made quickly - Elton John's 'All the Young Girls Love Alice', 'Long Train Running', Doobie Brothers and Steeley Dan's 'Rikki Don't Lose that Number' among others. We find time to write a couple of our own instrumentals, and we do a song 'No Time Toulouse' that I'd written in a previous band. A new name was required. A brainstorming session came to nothing, we'd been drinking cheap cider all evening and were all quite pissed. I suggested Mother Superior as a joke, but somehow we liked it and that's what we were called. Our first gig is an American Airbase in Norfolk I think, we meet men with guns at the gate and get taken to a bar where you can get bourbon, fabulous (this is 1974 and such things are not usually available). We get through the evening without too many duff moments and are looking forward to the next one.
2nd November 1974 We play the Marquee, fantastic to be in that tiny dressing room and to step out on to the stage with its green and white canopy, where we'd seen so many of our favourite bands play. Having never seen the club from this angle I was surprised how claustrophobic it was, the low ceiling made it feel very small. The gig went well, they said they'd have us back and they did. I can remember very little of that night, it went by in a blur.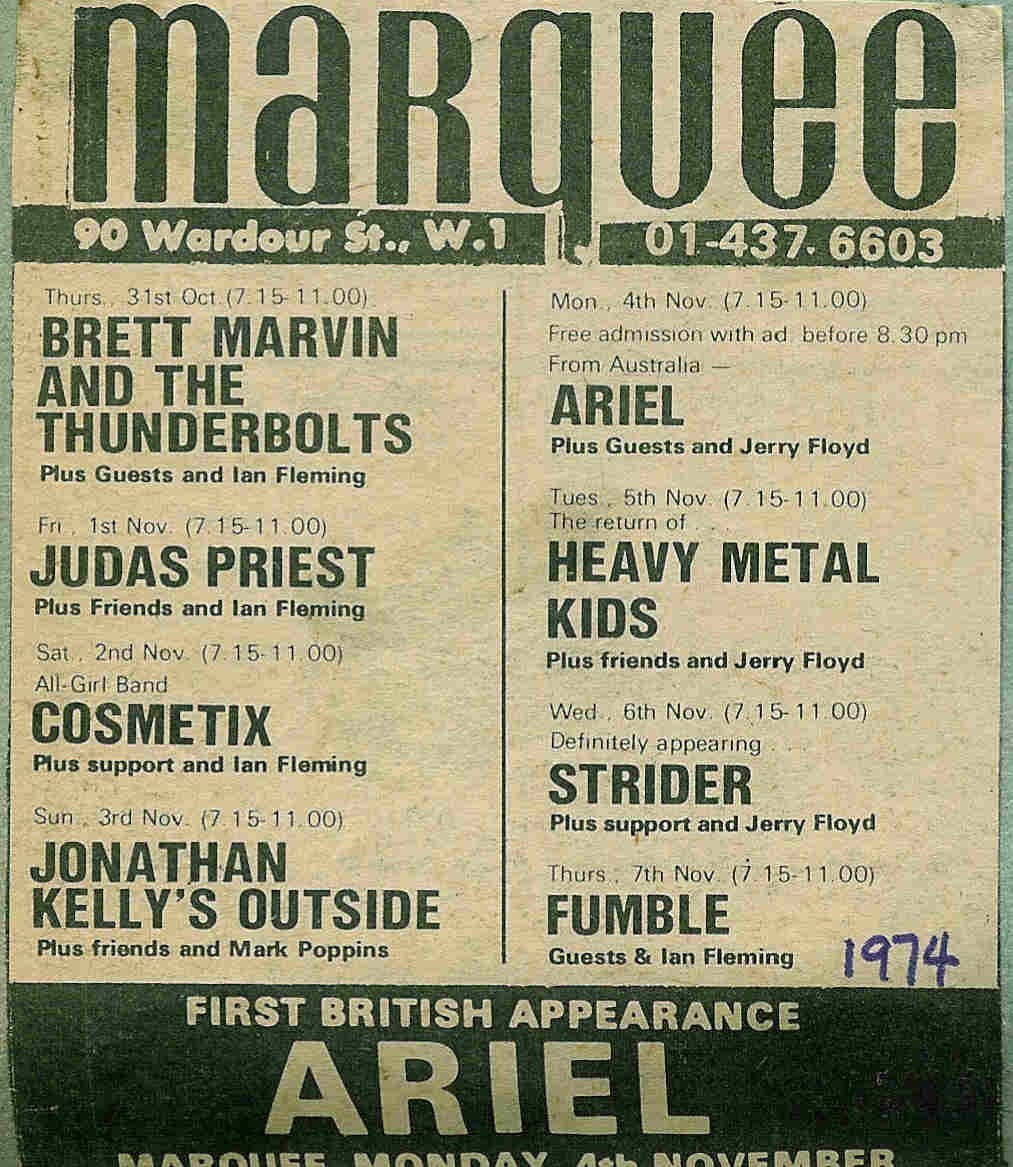 ON THE ROAD '74 Jackie B:
Boxing Day we are in a transit driving towards the ferry for Ostende with 2 roadies, to play American Airbases in Ashaffenburg, West Germany. Customs in Belgium wouldn't let us through until we paid them a whole lot of money. We spent the night in the Harbour car park, before we could be given the chance to be parted from our cash. We heard later that this was a con run by the promoter, and happened to many groups who were told before they left England, that you didn't need a carnet (an official authorised list of all the equipment you were temporarily taking out of the country) to get through Customs. Of course you did need it, the bands would have to pay up and he'd get a kick back. Welcome to the music biz.
Now we were late and had to drive like crazy to get to Germany for the first gig, no chance to eat, we had to drive straight there. When we finished that night we were so tired and hungry, we had to lie down on the stage while the roadies carried the gear out to the van. This tour was really hard work, food was difficult to come by and expensive, except for breakfast or when we were in the airbases where we sometimes got toasted sandwiches for free. How glamorous was this? We get a night off, decide to go for a drink and hitch into town looking for the nearest bar. We join a bunch of locals and down several lagers with spirit chasers, something they explain to us in great detail and broken English is made from wheat. We are extremely drunk and get into a car with the local madman who is meant to be taking us back to our B&B, he doesn't and drives very fast, out of town, we're yelling and shouting at him till he agrees to take us back. Eventually we get somewhere near where we are staying, make him stop and we all jump out. What he was planning to do with all four of us, we can only guess.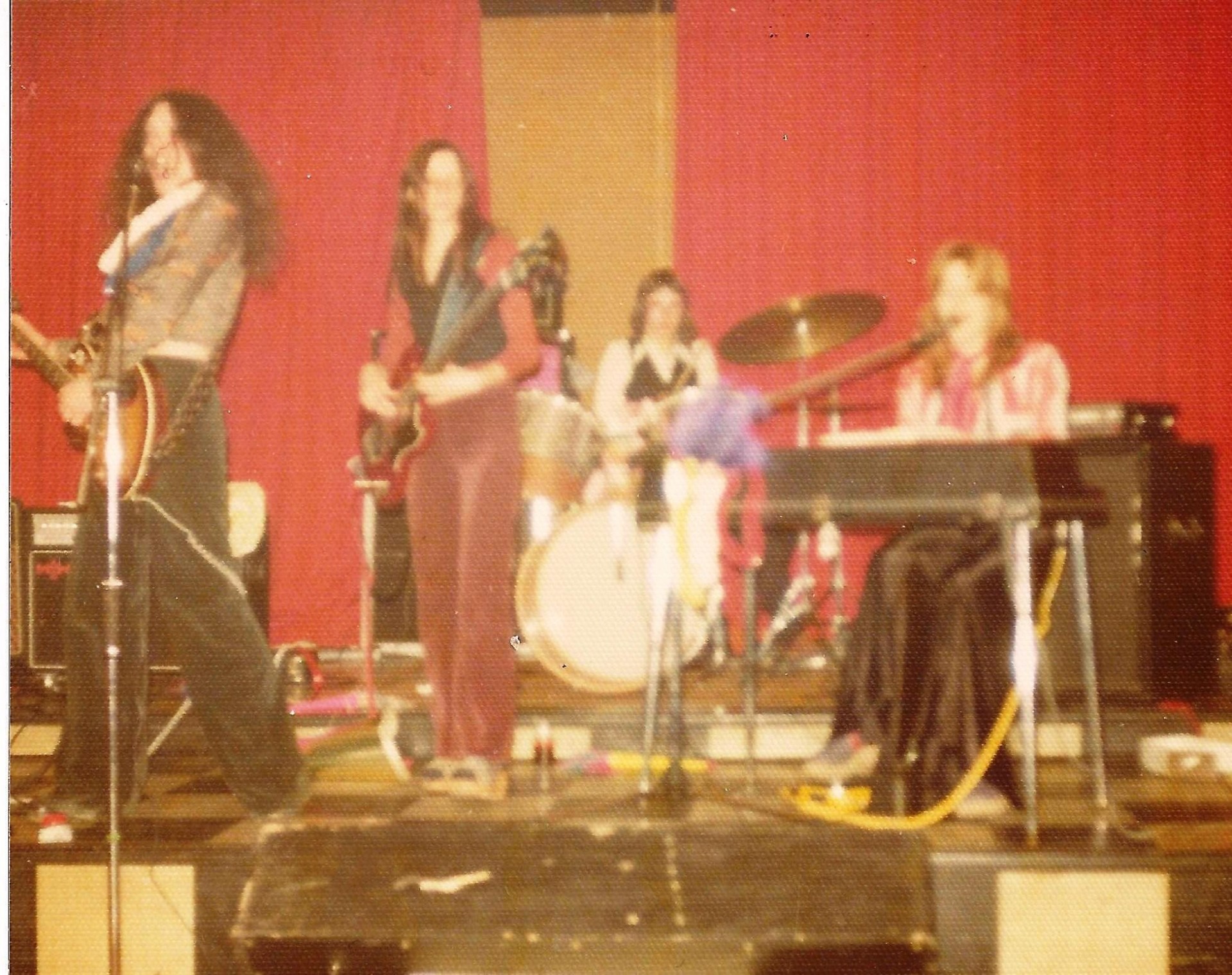 The gigs go well and we are especially popular at the airbase Play Boy club on New Year's Eve. The effect we have on audiences is puzzling, for the most part they enjoy the show, but rarely do people, particularly men want to speak to us. They seem to find us intimidating, except for those in the armed forces!
The return journey begins, we are all tired and hungry and just want to get home, sitting in the back of the transit with the gear is freezing and it's a long way back to London.
Mother Superior at the Playboy Club, Aschaffenburg, New Year's Eve 1974