76 - 77 LINE-UP CHANGES and THE END OF THE ROAD
FIRST REINCARNATION Jackie B:
Auditioning keyboard players at Greenwich Baths, we choose Simon Etchell, cute and skinny though he may be, he is clearly male. Our agent is not happy, but is still keen for us to do the tour of the UK he has already booked. Simon is with us for about 10 minutes when Audrey drops her bombshell, now we are looking for a guitarist and a singer, Janis and I have worked together before, we give her a call and luckily she is happy to tour with us. Rehearsals begin while we audition vocalists. This is not easy, but eventually we come across Kate Buddeke, an American with a big voice.
Meanwhile another massive problem has arisen, our new manager Mr Mills has decided that he no longer wants the job, the loss of Lesley and Audrey was too much for him and by way of trying to claw back some of his investment he drives off with his Mercedes truck containing our equipment. Many solicitors letters later, the day before our tour is to begin he agrees to return our gear, so I have to hire a van and drive down to Hampshire to get it, what a charmer.
Mother Superior mark 2 hit the road and for the most part have a good time. We hire a PA and 2 roadies, play the Rock Garden among many venues and drive the length and breadth of the country, more than once. My car is not really up to the job, an ancient Vauxhall Viva, with a driver's door that doesn't shut so good - it's so cold on motorways we have to wrap blankets round us. (see pic of Kate).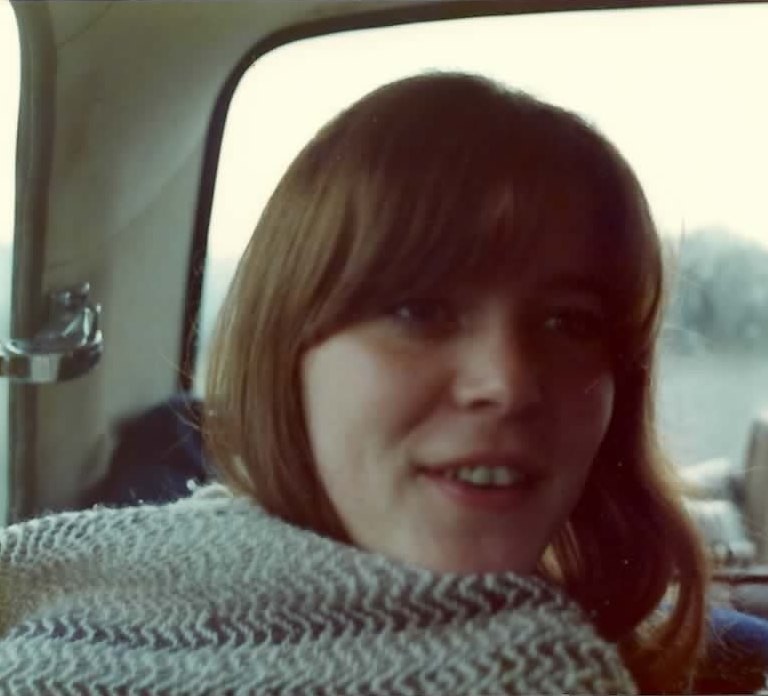 During the tour Janis says she wants to leave to put a band together with her husband Wilson, we're a bit disappointed but pleased she agrees to finish the gigs. Unfortunately the Manager of the Golden Lion pub brings this to an end. We arrive there to sound check and while I'm parking the van he insists that Janis's husband leaves the pub until they open, this leads to an argument and by the time I get back, Janis and Wilson have left. The manager is shouting at me telling me we have to play that night. I'm yelling at him saying it's his fault we've got no guitarist. We manage to do the gig by getting my boyfriend Pete Chapman to stand in (for the second time). What a crazy evening and what a good job he did, Vivien Goldman from Sounds came to review us.
LAST LINE UP Jackie B: Pete officially joins Mother Superior. More rehearsing and composing, Kate and Simon write together, I write with Simon and Pete and we prise the new material into our already schizophrenic set. Geraint and Jeffrey who are Typically Tropical (had a hit with 'Going to Barbados') want to record us. They are very keen for us to do a version of 'Dancing in the Street'. Have no problem with the song, but Motown is not exactly flavour of the month and not sure what we could actually bring to it, certainly no one is going to sing it better than Martha. In May we record at Morgan's - 'Midnight Moses', 'Back Track', 'Circumstantial Evidence' and 'Dancing in the Street'.
Mother Superior at the Rock Garden 77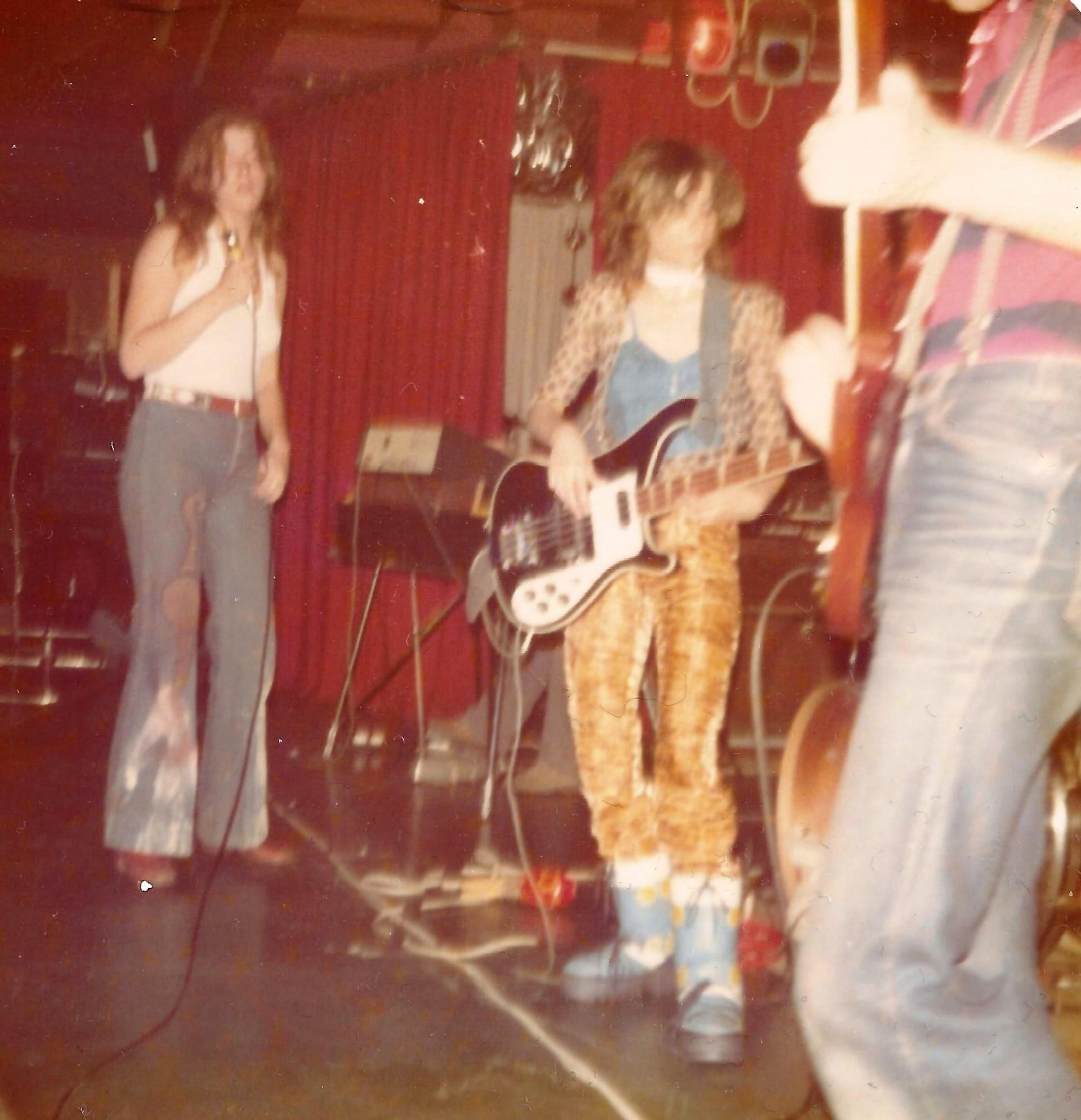 We are getting a lot more gigs, building a following and getting better paid, We play the Music Machine, the Rock Garden, The Greyhound, but we are falling apart. Various members of the band are heartily sick of each other and we decide to call it a day.
At the Brecknock, our last but one gig , lots of friends come to see us. Billy Jenkins and Steve Hughes from Burlesque join us on stage for 'King Kong' and 'Gimme Shelter'. And we finish the evening with a huge argument with the singer.
The very last gig, Kate, unsurprisingly doesn't turn up, but as luck would have it Lesley is coming to the show, she and I share the vocals, what a bizarre end to the band.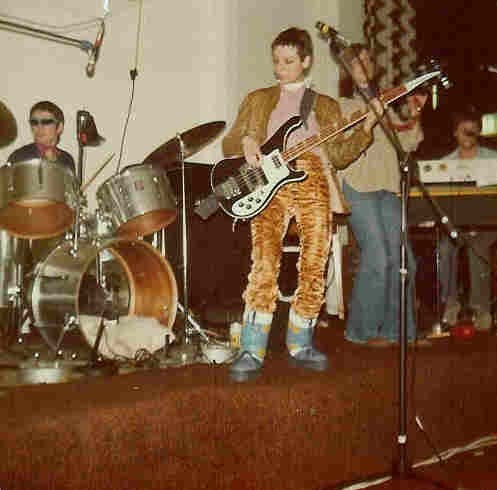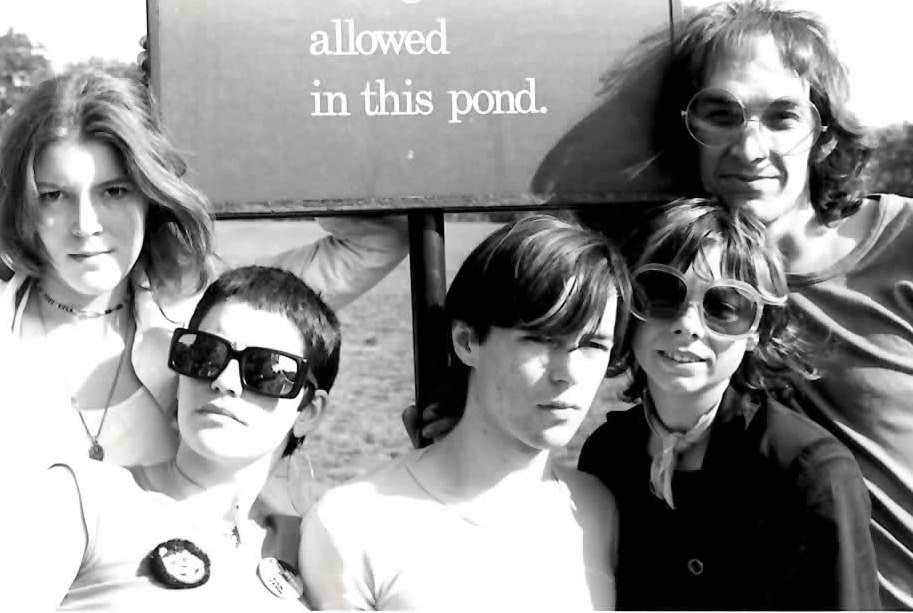 Mother Superior last round up (l to r)
Kate Buddeke, Jackie Crew, Simon Etchell, Jackie Badger and Pete Chapman
The Mothers Superior go their separate ways, Jackie C joins Tour de Force, Simon becomes a Blood Donor, I play bass with Snips and the Video Kings, Pete joins Plain Characters and we lose track of Kate.
THANKS
Time for some recognition and a huge thank you to all the guys who roadied for us, usually for peanuts - sorry there was never a big pay day chaps. So... to Rod, Mick, Big Pete who morphed into Winston in Splodgnessabounds, his pal Little Dave and to Curly Pete THANK YOU. Also we award an endurance medal to Simon's family who allowed us to rehearse in their house and let me keep my humungous Zoot Horn speaker cabinet in their hall.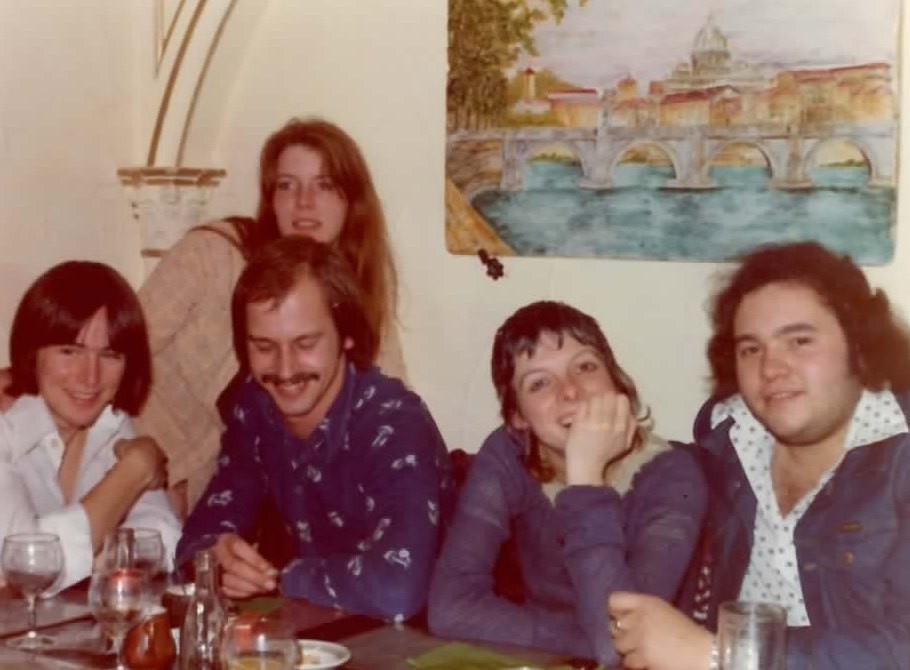 (l to r) Simon E, Kate B, Mick, Jackie B and Big Pete
Mother Superior's last gig Reading University December 77